SanDisk ULTRA DUAL DRIVE m3.0 64GB, 150MB/s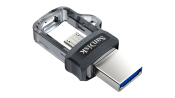 Tootja: SanDisk
Tootekood: SDDD3-064G-G46
Tootja koduleht: vaata
Garantii: 36 k.
Saadavus: 0 tk.

12€

Kirjeldus
The SanDisk Ultra® Dual Drive m3.0 makes it easy to transfer content from your phone to your computer. With a micro-USB connector on one end and a USB 3.0 connector on the other, the drive lets you move content easily between your devices—from your Android™ smartphone or tablet to your laptop, PC or Mac computer. The USB 3.0 connector is high-performance and backward-compatible with USB 2.0 ports. The SanDisk® Memory Zone app for Android (available on Google Play) helps you manage your device's memory and your content.
The SanDisk Ultra® Dual Drive m3.0 is compatible with Android™ smartphones and tablets featuring OTG (On-The-Go) USB support.
Kuidas osta:
vali tooted kataloogist
telli, saates e-kirja või helistades, täpsusta ka tarnekuupäeva
saadame kaupa üle Eesti Omniva ja SmartPost pakiautomaadi vahendusel, lisandub saatmiskulu
NB! Kaup tuleb ette tellida - meil puudub kauplus, kuhu saab kohapeale ostma tulla.