D-LINK 4-Port USB3.0 HUB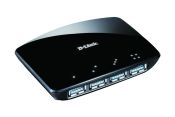 Tootja: D-LINK
Tootekood: DUB-1340
Tootja koduleht: vaata
Garantii: 24 k.
Saadavus: 8 tk.

47€

Kirjeldus
4 USB 3.0 type A ports, 1 USB 3.0 type Micro-B port to connect to a computer Can work without external power or with the included power supply to provide power to connected USB devices 10 times faster than the current USB 2.0 standard Several USB hubs can be connected in cascade to support up to 127 USB devices Backward compatible with every USB standard Compatible with Windows, Mac OS and Linux – no drivers needed Overview The DUB-1340 4-port USB 3.0 Hub connects the new generation of USB 3.0 devices -such as printers, camcorders and USB Hard Drives- to your computer at the fastest speeds. It comes with its own power supply to provide power to connected USB devices, and is backward compatible with both USB 2.0 and USB 1.0 standards.
Kuidas osta:
vali tooted kataloogist
telli, saates e-kirja või helistades, täpsusta ka tarnekuupäeva
saadame kaupa üle Eesti Omniva ja SmartPost pakiautomaadi vahendusel, lisandub saatmiskulu
NB! Kaup tuleb ette tellida - meil puudub kauplus, kuhu saab kohapeale ostma tulla.