BELKIN NetCam HD Wi-Fi IP Camera with Night Vision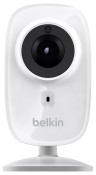 Производитель: BELKIN
Код производителя: F7D7602AT
Cайт производителя: посмотреть
Гарантия: 24 мес.
Доступное количество: 3 шт.

150€

Описание
Not only does the Belkin NetCam HD allow you to keep tabs on kids or pets from your smartphone or tablet - it also allows you to see all the action in vibrant 720p HD video. Ideal for anyone who has kids, pets, or grandparents at home, the camera captures smooth video and crisp digital audio that makes you feel like you're right there with them. You can watch and hear all the fun on your mobile device, wherever you go.
You'll see the HD difference the moment you start watching on your tablet or smartphone. The video is exceptionally smooth, and the details and color are so vivid you'll feel like you never left home. With standard-definition video quickly becoming obsolete, the Belkin NetCam HD ensures that you can take full advantage of your mobile device's high-definition video and audio capabilities.
Forget hassling with installation CDs and complicated user manuals. All you have to do to get the Belkin NetCam HD up and running is download the free NetCam app to your mobile device. The camera connects to your home's Wi-Fi router and starts streaming video and audio to your smartphone or tablet. You don't even need a computer or laptop.
The camera's wide-view lens is ideal for monitoring a large living room or backyard. Additionally, night vision lets you watch after dark or in dim lighting, which is particularly useful for monitoring a child's nursery or bedroom during naptime.
Whether you're missing a party or playtime back at home, the Belkin NetCam HD has you covered. With the help of the free NetCam app, you can choose to record the sights and sounds directly to your mobile device. The camera's HD video and digital audio keep your recordings crisp and clear, making them more fun to watch again later.
Как купить:
выберите товар в каталоге
оформите заказ отправив е-мэйл или позвонив, уточните также срок поставки
доставляем товары в пределах Эстонии через почтовые автоматы Omniva и SmartPost, прибавляется стоимость пересылки
NB! Товары необходимо предварительно заказывать, у нас нет розничного магазина.