Panasonic EVOLTA Alkaline AA 2-pack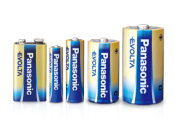 Tootja: Panasonic
Tootekood: LR6EGE/2BP
Tootja koduleht: vaata
Garantii: 0 puudub
Saadavus: 5 tk.

2€

Kirjeldus
Panasonic's N°1 long lasting alkaline battery
Exceptional performance in low, mid and high drain products
Evolta outperforms high premium competitors in commonly accepted industry performance tests
Developed to meet the power needs of today's electronic appliances.
Eco ideas: higher energy efficiency = less batteries needed = less impact for the environment
Evolta is not only the N°1 Panasonic battery, it outperforms high Premium competitors too in comonly accepted industry performance tests. The claim "Panasonic's N°1 Long Lasting Alkaline Battery" will be used to remind consumers about the outstanding performance of the Evolta batteries.
Kuidas osta:
vali tooted kataloogist
telli, saates e-kirja, helistades või tulles kohale, täpsusta ka tarnekuupäeva
pärast vastavasisulise teate saamist tule kaubale järgi meie kontorisse*
maksa kauba kättesaamise hetkel**
NB! Kaup tuleb ette tellida - meil puudub kauplus, kuhu saab kohapeale ostma tulla.
* lisatasu eest pakume ka kauba saatmist üle Eesti
** kehtib ainult standartsetele tellimustele alla 60EUR, muudel juhtudel on nõutav vähemalt 50% ettemaks