Toshiba 3 years International Warranty for Laptops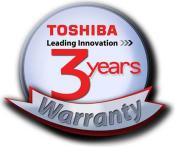 Tootja: Toshiba
Tootekood: EXT103I-V
Tootja koduleht: vaata
Garantii: 36 k.
Saadavus: 2 tk.

57€

Kirjeldus
Afraid of unexpected costs once the standard warranty of your Toshiba product has expired? Extend your warranty to up to 4 years to secure your technology investment in the long term. Selected Warranty Extensions further entitle you to one Battery Replacement claim within the respective Warranty Extension period and after the Standard Warranty of your battery has expired.
Why purchase a Toshiba Warranty Extension?
Have long-lasting peace of mind for up to 4 years when it comes to the functionality of your Toshiba product.
Get your computer repaired at any Toshiba Authorised Service Provider worldwide, staffed by highly trained engineers and exclusively using Toshiba original service parts.
Get instant multilingual support for a qualified and easy communication - no matter where you are.
Period: Valid for 3 years starting from the purchase date of your Toshiba product
Purchase Period: Service can be purchased within the whole warranty period
Features: Includes Worldwide Coverage
Kuidas osta:
vali tooted kataloogist
telli, saates e-kirja või helistades, täpsusta ka tarnekuupäeva
saadame kaupa üle Eesti Omniva ja SmartPost pakiautomaadi vahendusel, lisandub saatmiskulu
NB! Kaup tuleb ette tellida - meil puudub kauplus, kuhu saab kohapeale ostma tulla.