Kingston USB microSD/SDHC Reader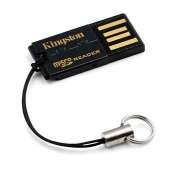 Tootja: Kingston
Tootekood: FCR-MRG2
Tootja koduleht: vaata
Garantii: 24 k.
Saadavus: 0 tk.

3€

Kirjeldus
This mobile-ready reader eliminates the need to carry additional USB transfer cables and the typical wait for Bluetooth® technology slow file transfers between phones and PCs. It also replaces your SD card adapter, since the microSD card fits directly into the reader. When in use, the microSD Card Reader appears as a drive letter (i.e., E:\) and data transfer is as simple as drag and drop. Use the reader with a microSD/microSDHC card to get the storage capacity for a variety of helpful transfers, or acquire content to side load to your phone, including: Backing up your friends', relatives' or business contact information when you change phones Moving the digital music library stored on your PC for use on your phone to upload to the web without using additional network minutes Downloading new mobile applications on your PC for use on your phone without using network time. The reader is backed by a two-year warranty and Kingston's legendary service and support. It has an included keychain, so you can hang it from your phone for the convenient solution you need to complement your mobile lifestyle. Store your entire mobile life — photos, songs, text messages, video clips, personal information — on a microSD/microSDHC card, then work with it across device platforms seamlessly with the microSD Card Reader. Features/Benefits: Versatile — works with microSD/microSDHC cards Compliant — with USB 2.0, SD Specification Version 2.00 Portable — easily fits in your pocket to take it with you Easy — plug-and-play into any USB 2.0 or 1.1 port Guaranteed — two-year warranty Reader Specifications: Dimensions — 0.984" x 0.478" x 0.104" (24.99mm x 12.14mm x 2.64mm) Operating Temperature — 0° to 60° C / 32° to 140° F Storage temperatures — -40° to 85° C / -40° to 185° F Weight — 0.137 oz (3.8g)
Kuidas osta:
vali tooted kataloogist
telli, saates e-kirja või helistades, täpsusta ka tarnekuupäeva
saadame kaupa üle Eesti Omniva ja SmartPost pakiautomaadi vahendusel, lisandub saatmiskulu
NB! Kaup tuleb ette tellida - meil puudub kauplus, kuhu saab kohapeale ostma tulla.