Lindy 2 Port 4K Bi-Directional HDMI Switch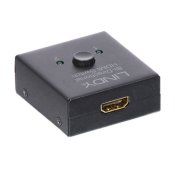 Tootja: Lindy
Tootekood: 38036
Tootja koduleht: vaata
Garantii: 12 k.
Saadavus: 2 tk.

28€

Kirjeldus
This Bi-Directional HDMI switch allows you to plug two high definition sources into a single HDTV or projector, then switch between them using a push button on the unit. Or plug one high definition source in to two HDTV's or projectors, then switch to show the image on either of the screens. Its compact design means it can be easily hidden away and takes up almost no desk space.
Dual-purpose - Connect two sources to one display and switch between them
Alternatively, connect one source to two displays and switch to show the signal on one OR the other
Supports 1080p 3D and Ultra HD resolutions up to 4K2K@30hz
Supports a combined total cable distance of 10m (5m in, 5m out)
No external power supply required
Kuidas osta:
vali tooted kataloogist
telli, saates e-kirja või helistades, täpsusta ka tarnekuupäeva
saadame kaupa üle Eesti Omniva ja SmartPost pakiautomaadi vahendusel, lisandub saatmiskulu
NB! Kaup tuleb ette tellida - meil puudub kauplus, kuhu saab kohapeale ostma tulla.