Lindy USB MHL to HDMI Adapter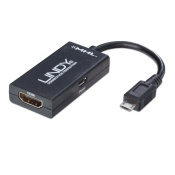 Tootja: Lindy
Tootekood: 41561
Tootja koduleht: vaata
Garantii: 24 k.
Saadavus: 3 tk.

31€

Kirjeldus
Show content stored on your smartphone or tablet on an HDTV
MHL 1.0 compliant
Supports resolutions up to Full HD 1080p @ 30Hz
MHL connector: USB 2.0 Micro B 5 Pin Male, HDMI connector: HDMI 19 pin Type A Female
Additional USB 2.0 Micro B female for charging & power

o use this adapter with Samsung Galaxy phones, such as the S3, S4, Note 2 and Note 3 with the 11pin Micro-B connector please use this 5 to 11pin adapter
This adapter is not compatible with iOS devices (iPhone, iPad etc.)
Kuidas osta:
vali tooted kataloogist
telli, saates e-kirja, helistades või tulles kohale, täpsusta ka tarnekuupäeva
pärast vastavasisulise teate saamist tule kaubale järgi meie kontorisse*
maksa kauba kättesaamise hetkel**
NB! Kaup tuleb ette tellida - meil puudub kauplus, kuhu saab kohapeale ostma tulla.
* lisatasu eest pakume ka kauba saatmist üle Eesti
** kehtib ainult standartsetele tellimustele alla 60EUR, muudel juhtudel on nõutav vähemalt 50% ettemaks