Apple USB-C Digital VGA Multiport Adapter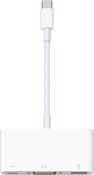 Tootja: Apple
Tootekood: MJ1L2ZM/A
Tootja koduleht: vaata
Garantii: 3 k.
Saadavus: 1 tk.

80€

Kirjeldus
The USB-C VGA Multiport Adapter lets you connect your MacBook with USB-C port to a VGA display, while also connecting a standard USB device and a USB-C charging cable.
The USB-C VGA Multiport Adapter allows you to mirror your MacBook display to your VGA-enabled TV or display in up to 1080p HD. It also outputs video content like films and captured video. Simply connect the adapter to the USB-C port on your MacBook and then to your TV or projector via a VGA cable (sold separately).
Use the standard USB port to connect devices such as your flash drive or camera, or a USB cable for syncing and charging your iPhone, iPad or iPod. You can also connect a charging cable to the USB-C port to charge your MacBook.
Note: The Apple USB-C VGA Multiport Adapter is not compatible with the G-Tech G-DRIVE mobile USB 3.0 Hard Drive (Apple part number HF4F2VC/A).
Kuidas osta:
vali tooted kataloogist
telli, saates e-kirja või helistades, täpsusta ka tarnekuupäeva
saadame kaupa üle Eesti Omniva ja SmartPost pakiautomaadi vahendusel, lisandub saatmiskulu
NB! Kaup tuleb ette tellida - meil puudub kauplus, kuhu saab kohapeale ostma tulla.