KINGSTON IronKey D300 32GB Encrypted USB 3.0 FIPS Level 3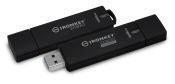 Tootja: KINGSTON
Tootekood: IKD300/32GB
Tootja koduleht: vaata
Garantii: 36 k.
Saadavus: 0 tk.

218€

Kirjeldus
Available in Standard and Managed models
Kingston's IronKeyTM D300 USB Flash drive features an advanced level of security that builds on the features that made IronKey well-respected to safeguard sensitive information. It's FIPS 140-2 Level 3 certified, with 256-bit AES hardware encryption in XTS mode. For added peace of mind, the drive uses digitally signed firmware, making it immune to BadUSB, and it enforces complex password protection1 with minimum characteristics to prevent unauthorised access. Encryption and decryption is done on the drive, with no trace left on the host system, and the drive locks down and reformats after 10 invalid attempts to protect against brute force attacks.
All models
Rugged and secure, IronKey D300 has a zinc casing and tamper-evident epoxy seal for physical security, so you can rest assured the drive will hold up, even in the most demanding situations. It's customisable, easy to use and waterproof up to 4 feet, conforming to IEC 60529 IXP82. SuperSpeed (USB 3.0) technology means that you don't have to compromise speed for security; IronKey D300 allows for fast data transfers, and by adding Kingston's expertise in Flash memory and the latest in NAND Flash and controller technology, you can be confident in a solution that will be around for years to come.
Kuidas osta:
vali tooted kataloogist
telli, saates e-kirja, helistades või tulles kohale, täpsusta ka tarnekuupäeva
pärast vastavasisulise teate saamist tule kaubale järgi meie kontorisse*
maksa kauba kättesaamise hetkel**
NB! Kaup tuleb ette tellida - meil puudub kauplus, kuhu saab kohapeale ostma tulla.
* lisatasu eest pakume ka kauba saatmist üle Eesti
** kehtib ainult standartsetele tellimustele alla 60EUR, muudel juhtudel on nõutav vähemalt 50% ettemaks