WD My Passport X 2TB Gaming 2.5" (for xBox One or PC)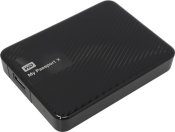 Tootja: WD
Tootekood: WDBCRM0020BBK-EESN
Tootja koduleht: vaata
Garantii: 24 k.
Saadavus: 0 tk.

100€

Kirjeldus
Expand your Xbox One gaming experience
My Passport X from WD expands your Xbox One or PC gaming experience. Connect this portable and powerful drive to immediately add storage capacity to your system. Built around a high-quality WD drive, My Passport X is performance-tweaked to meet the desires of serious gamers.
Play anywhere
Take your gaming titles wherever you want. You can even plug it into your friend's Xbox One video game system and it's game on! Internet required. Must be logged into your Xbox Live online account.
Performance tweaked
Connecting My Passport X to your Xbox One is like equipping your gaming avatar with super-lifting strength and speed. It gives you the room to store a lot more games, plus the speed of a USB 3.0 compatibility for a lightning-quick gaming experience. It's built to deliver a great gaming performance for Xbox One or PC gamers.
No sweat setup
My Passport X takes just minutes to set up. Plug it in, follow the easy on-screen instructions - and you're locked and loaded to take on armed marauders, aliens and opponents of all types.
Sleek design with high capacity
An ideal companion for your Xbox One, the My Passport X's stylish, compact design allows you to take your gaming lifestyle with you - and look good doing it.
WD reliability
Your data is important, so WD builds drives for durability, shock tolerance and long-term reliability.
Kuidas osta:
vali tooted kataloogist
telli, saates e-kirja või helistades, täpsusta ka tarnekuupäeva
saadame kaupa üle Eesti Omniva ja SmartPost pakiautomaadi vahendusel, lisandub saatmiskulu
NB! Kaup tuleb ette tellida - meil puudub kauplus, kuhu saab kohapeale ostma tulla.