Logilink USB 2.0 HUB 4-port 3.5" internal panel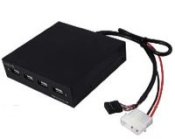 Tootja: Logilink
Tootekood: UA0074
Tootja koduleht: vaata
Garantii: 24 k.
Saadavus: 0 tk.

7€

Kirjeldus
Simply install in to a "floppy drive" opening on the front of your PC case and plug the included lead's in to an internal USB port and a power port to obtain 4x external USB2.0 ports that are easy accesible on the front of your PC! Includes extra stick on front bezels for Black and Silver cases. UA0074 is 3.5" internal Bay provides 4 HI-SPEED USB 2.0 ports for your high- speed connectivity need. This device is fully compliant to USB2.0 specification and provides a data transfer rate up to 480Mbps. It has 4 ports which will connect either the new USB 2.0 HI-SPEED high performance peripherals or the legacy USB 1.1 device. It's providing easy plug & play USB expansion. Just like USB1.1 you can connect as many as 127 devices to your computer using multiple USB 2.0 hubs. All ports are fully supported for compatibility with bus- power peripherals. Specification: - Compliant with USB2.0/1.1 - All downstream facing ports can handle high-speed (480Mbps), full-speed (12Mbps), and low-speed (1.5Mbps) transaction - Supports Plug & Play and Hot Swappable capability - Equipped with over-current Detection & Protection - Connects up to 127 USB devices - Bus power mode only - Root Hub with 4 downstream facing ports which are shared by OHCI & EHCI Host Controller core - 1 upstream port & 4 downstream ports - Led status indicators - Supports windows 98SE/ME/2000/XP/Vista/7, and Mac OS 8.6 or above
Kuidas osta:
vali tooted kataloogist
telli, saates e-kirja või helistades, täpsusta ka tarnekuupäeva
saadame kaupa üle Eesti Omniva ja SmartPost pakiautomaadi vahendusel, lisandub saatmiskulu
NB! Kaup tuleb ette tellida - meil puudub kauplus, kuhu saab kohapeale ostma tulla.