SAMSON Expedition Escape Rechargeable Battery Speaker | 6'' | 4.6 kg | Bluetooth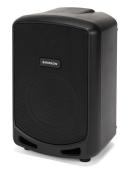 Tootja: SAMSON
Tootekood: SAXPESC
Tootja koduleht: vaata
Garantii: 24 k.
Saadavus: 0 tk.

127€

Kirjeldus
Samson's Expedition Escape is a rechargeable speaker system that provides incredible sound in any environment. Weighing only 8.5 pounds, this ultra-portable device combines pristine audio performance with convenient Bluetooth connectivity for wireless audio streaming. It's the ideal sound system for BBQs, parties, outdoor sporting events, tailgates, presentations, fitness classes and anywhere else loud, full-range sound is desired.
Packed with high-quality components to ensure an optimal music listening experience, the Expedition Escape offers a 2-way speaker design with a 6" full range driver, as well as a 1" high frequency driver to produce the finer details of your favorite tracks. The system is also Bluetooth-compatible, allowing you to wirelessly stream music from your smartphone, tablet or laptop up to 50' away from the Expedition Escape. The unit's 2-channel mixer features a 1/4" input with its own dedicated volume control for a variety of live performance applications, including use with dynamic microphones. In addition, the Expedition Escape has an 1/8" input for directly connecting MP3 players, keyboards and more.
Kuidas osta:
vali tooted kataloogist
telli, saates e-kirja, helistades või tulles kohale, täpsusta ka tarnekuupäeva
pärast vastavasisulise teate saamist tule kaubale järgi meie kontorisse*
maksa kauba kättesaamise hetkel**
NB! Kaup tuleb ette tellida - meil puudub kauplus, kuhu saab kohapeale ostma tulla.
* lisatasu eest pakume ka kauba saatmist üle Eesti
** kehtib ainult standartsetele tellimustele alla 60EUR, muudel juhtudel on nõutav vähemalt 50% ettemaks