SilverStone 4-in-1 SATA power connectors with power stabilizing capacitors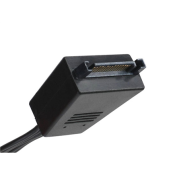 Tootja: SilverStone
Tootekood: SST-CP06
Tootja koduleht: vaata
Garantii: 12 k.
Saadavus: 0 tk.

10€

Kirjeldus
The SilverStone CP06 is a set of continuous SATA cable connectors designed to facilitate cabling and reduce clutter inside a PC with multiple SATA devices. It hooks up to four SATA devices via four right angled connectors. Two high quality 2200μF capacitors are included on the cable to provide stable voltage to all connected devices. So if you have a lot of SATA drives in your system, the CP06 is a must buy for improving aesthetics and drive reliability.
Kuidas osta:
vali tooted kataloogist
telli, saates e-kirja, helistades või tulles kohale, täpsusta ka tarnekuupäeva
pärast vastavasisulise teate saamist tule kaubale järgi meie kontorisse*
maksa kauba kättesaamise hetkel**
NB! Kaup tuleb ette tellida - meil puudub kauplus, kuhu saab kohapeale ostma tulla.
* lisatasu eest pakume ka kauba saatmist üle Eesti
** kehtib ainult standartsetele tellimustele alla 60EUR, muudel juhtudel on nõutav vähemalt 50% ettemaks