Novatel Merlin U740 3G PCMCIA modem GPRS/EDGE/UMTS/HSD (oem, card only)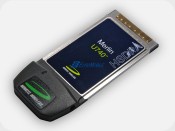 Tootja: Novatel
Tootekood: U740
Tootja koduleht: vaata
Garantii: 6 k.
Saadavus: 1 tk.

36€

Kirjeldus
The Merlin™ U740 operates on HSDPA/UMTS 2100 MHz and EDGE/GPRS 900 and 1800 MHz in Europe, the Middle East, and Africa and EDGE/GRPS 850, 900, 1800, and 1900 MHz in North American. It is tailored to the European market and can roam in North America where roaming agreements exist. This 3G data card fits into the PCMCIA slot of a laptop and can provide peak speeds up to 1.8Mbps. The U740 card is durable with its built-in antenna and allows for an accessory antenna if needed for poor coverage areas PCCard Information Dimensions Length: 120.6 mm (4.75") Width: 54 mm (2.13") Depth: 5 mm (0.2") Weight: 49 g (1.7 oz) External Antenna (optional accessory) Connector on PC Card: Hirose MS-151 Power Voltage 3.3v (nominal) Transmit: max 1000 mA Idle: max 150 mA System Requirements Card Slot: Type II Pentium processor: 166 MHz Disk Drive: CD ROM Memory: 32MB Disk Space: 14 MB Internet browser software Operating Systems Supported Windows 2000, XP, Vista Mac OS X 10.4.8 or higher Environmental Operating Temperature:0° C to +55° C Storage Temperature: -20° C to +65° C EMI Shielding Approvals/Certifications FCC parts 2, 15, 22 & 24 3GPP rel. 5 GSM Phase 2+ Microsoft WHQL CE NDIS driver support PTCRB/GCF Operator IOT Wireless Technology Technology/Bands HSDPA/UMTS 2100 MHz band GPRS/GSM 850 MHz GPRS/GSM 900 MHz GPRS/GSM 1800 MHz GPRS/GSM 1900 MHz Data Speeds Basic PS Modes: 1.8Mbps/384Kbps, 384/128, 384/64, 128/64, 64/64, 32/8 (Downlink/Uplink)
Kuidas osta:
vali tooted kataloogist
telli, saates e-kirja, helistades või tulles kohale, täpsusta ka tarnekuupäeva
pärast vastavasisulise teate saamist tule kaubale järgi meie kontorisse*
maksa kauba kättesaamise hetkel**
NB! Kaup tuleb ette tellida - meil puudub kauplus, kuhu saab kohapeale ostma tulla.
* lisatasu eest pakume ka kauba saatmist üle Eesti
** kehtib ainult standartsetele tellimustele alla 60EUR, muudel juhtudel on nõutav vähemalt 50% ettemaks