Garett Board 1 Electric skateboard mazy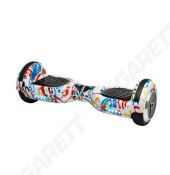 Tootja: Garett
Tootekood: 5906874848357
Tootja koduleht: vaata
Garantii: 12 k.
Saadavus: 0 tk.

229€

Kirjeldus
Garett Board 1 are innovate devices dedicate to all who like physical activity and technological challenge. That's the best way to move, will give a lot of fun and develop balance skills.
Garett Board 1 will be great for kids like also for adults ( capacity 20-100 kg), device can be used indoor and outdoor.
Garett Board 1 is extremely easy and intuitive, the basic skills of movement on a skateboard usually lasts about 5 minutes. The user controls the vehicle through the minimum balance of the body and foots.
Skateboard allows you to travel at speeds of up to 10 km/h the maximum slope up to 15 degrees. Each wheel is driven by a separate electric motor, total power output is 2 x 350W.
Precise and advanced output
In skateboard uses durable and solid materials, also technologically advanced solutions, a gyroscope, acceleration sensors and a fast processor. Footplatform have a non-slip surface, so the user have control all the time on the skateboard. The rubber treaded tires are very strong and firmly stick to the ground.
Samsung batteries
Garett Board 1 uses high quality Samsung batteries which guarantees safety and longservice life. To fully charge the device usually need approximately 2 hours, range with a fully charged battery can achieve up to 20 km.
LED lights
When the device is in motion, Led lights flashing, provide an amazing experience.
The Bluetooth function
You can listen to Your favourite music directly when driving with skateboard.
Includes remote control and handbag
Remote control is used to enable/disable/block skateboard, bag for convenient carrying skateboard.
The perfect gift idea
Garett Board 1 ideal as a gift, both for young people and adults!
Wheels 6,5''
Samsung Batteries
2 x 350W Power
LED Lights
Speakers
Bluetooth
Remote
Bag
Solid Cover
Anti-slip surface
Battery charge level
Kuidas osta:
vali tooted kataloogist
telli, saates e-kirja, helistades või tulles kohale, täpsusta ka tarnekuupäeva
pärast vastavasisulise teate saamist tule kaubale järgi meie kontorisse*
maksa kauba kättesaamise hetkel**
NB! Kaup tuleb ette tellida - meil puudub kauplus, kuhu saab kohapeale ostma tulla.
* lisatasu eest pakume ka kauba saatmist üle Eesti
** kehtib ainult standartsetele tellimustele alla 60EUR, muudel juhtudel on nõutav vähemalt 50% ettemaks